CONTENTS
CAMELS
(You will need one orange 260.)
Step 1:
Inflate 260, leaving a 6-inch tail. Tie off
Step 2:
Do a two-inch hook twist, which is an apple twist but off center. Make sure the mouth points down. Twist 1 half-inch bubble and ear-twist that. Divide that ear-twist in half. This forms the head of the camel.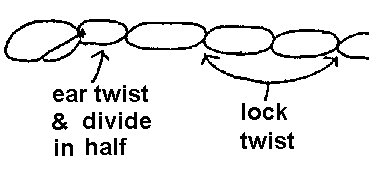 Step 3:
Twist 3 two-inch bubbles and lock-twist the second and third bubble to form the front legs.